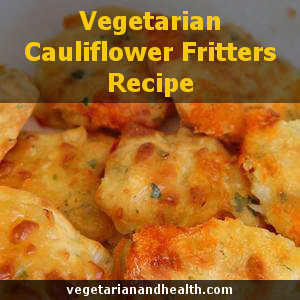 Healthy homemade Vegetarian Cauliflower Fritters Recipe for all ages. In Malaysia, we love our tea time because of the variety of foods we can savour. Malaysian favourite vegetarian fried items for tea time are usually Cucur Bawang, Cucur Badak and Cekodok.
Now, we can add Vegetarian Cauliflower Fritters Recipe to the tea time list. Vegan's can omit the cow's milk and replace with Soy Milk. Cheddar Cheese can be substitute with Soy Cheese.
Vegetarian Cauliflower Fritters Recipe
Ingredients:
1 cup Plain Flour
2 Tsp Baking Powder
1 cup Cheddar Cheese – grated
1 tsp of ORGRAN No Egg™ Egg Replacer to replace 1 egg
1/2 Cup Coriander Leaves – chopped
1 Clove Garlic – minced
1/4 Cup Fresh Cows Milk
1 Tbsp Extra Virgin Olive Oil
1 Cup Cauliflower – chopped
Note: Half cook the Cauliflower by steaming for 5 minutes
Method:
Mix Cheddar Cheese, Egg Replacer, Coriander Leaves, Minced Garlic and Cauliflower in a bowl.
After that, add in the sifted flour and baking powder with the mixture.
Then, gradually add fresh milk, stirring until a thick batter forms.
Line the baking tray with baking paper and spread about 1 tbsp olive oil onto baking paper.
Preheat oven to 150°C and scoop the batter onto the baking tray.
Bake at 150°C for 5 minutes. Overturn the fritters and continue cooking at 180°C for another 4 minutes.
Note: If you do not have oven, you may heat up oil in the frying pan and fry the fritters.