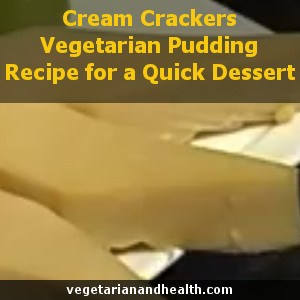 Making a dessert can be a nightmare at times. Need to consider about the ingredients, time to make the dessert and utensils involved in making the dessert. Making a dessert under 15 minutes can be a relief.
A small story about Cream Crackers. Cream Crackers originated from Ireland and popular in the United Kingdom, Ireland, Southeast Asia, South Asia and South Africa. The most widely known cream cracker brand is Jacob's. I grew up eating Hup Seng Cream Crackers in the early 90's in Malaysia.
For tea time, we get a stack of cream crackers with Teh-O (Tea without milk). Dip the cream crackers in the tea and eat. As time went on, Me and my cousins became creative and made cream crackers sandwiches with condensed milk, margarine with sugar and strawberry jam.
Our life revolved only around Cream crackers because we had a basic lifestyle and we could not afford to buy the famous American cookies we get in the store nowadays. Here is a recipe with my wonderful Cream Crackers to be enjoyed by everyone.
Cream Crackers Vegetarian Pudding Recipe for a Quick Dessert
Ingredients:
1/2 cup Condensed Milk
2 tsp of ORGRAN No Egg™ Egg Replacer to replace 2 eggs
10 Cream Crackers
Method:
Soak the Cream Crackers in water for 15 minutes or till it is soft.
Blend 2 tsp of ORGRAN No Egg™ Egg Replacer with 1/2 cup Condensed Milk.
Then, add in the soaked cream crackers without water and blend together.
Pour the mixture in a bowl and steam for 30 minutes.
Let the pudding cool slightly before cooling it further in fridge for 1 hour.
Finally, cut the pudding in slices and serve it.
Resource:
http://en.wikipedia.org/wiki/Cream_cracker